Opened in 1890 on Kildare Street, Dublin, the National Library of Ireland is one of the most notable and historical buildings in the entire city.
The scope of the survey required the team to call upon many years of experience and expertise. From the drone survey of the external facades to maintaining accuracy throughout the entire building during laser scans, the team provided initiative solutions to the demands required.
One of the most significant challenges during the survey was capturing the external photogrammetry. Using a combination of aerial and terrestrial photography, professional photogrammetric software as well as in-house photogrammetry experts a full orthomosaic was successfully generated for each façade. Using a custom made solution, the team was also able to produce stunning high resolution results of the tiled floor inside the library.
Due to the city centre location and proximity to the Dáil Éireann both safety and security were paramount for the drone survey. Permission from both the Irish Aviation Authority (IAA) and Leinster House were sought two weeks prior to the intended survey date. This gave sufficient notice for the IAA and allowed Leinster House to notify the on-premises military and Gardaí.
With the permanent control established as per the scope, the latest RTC 360 laser scanner was used to scan the entire building top to bottom. This particular scanner was deployed for the survey due to its impressive collection rate for images and scans. Moreover, the achievable accuracy with this scanner was within the specification of the survey.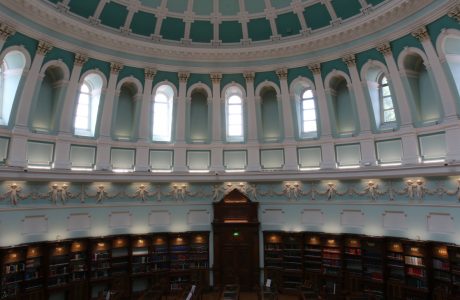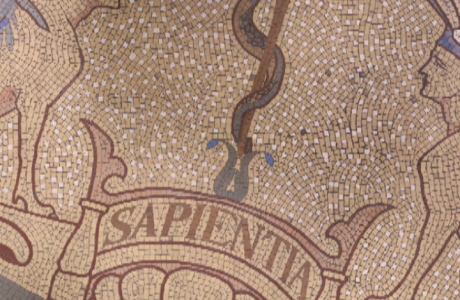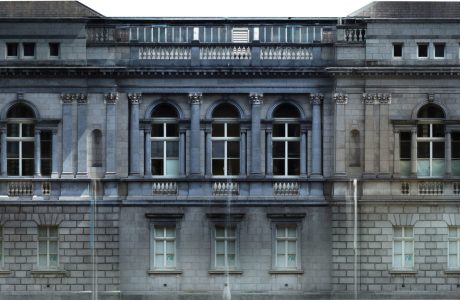 Survey Data Outputs
Laser scan point cloud
Drone point cloud and orthomosaic
Aerial and terrestrial photogrammetry
Final Deliverables
Sections
Elevations
Internal and external façade orthomosaics
Internal floor orthomosaics
Topographic survey
Roof plan