PCA specialises in both photogrammetry and laser scanning. PCA staff have extensive knowledge and experience in data acquisition, data processing and delivery to our clients.
Each survey technique can be used as a standalone methodology however, it is often the case that two methodologies are better than one. For many of our clients, most notably the Office of Public Works, PCA combine each technique to provide full site coverage. Specific projects where the PCA team has made great use of both are Skellig Michael, Portumna Castle and Charlesfort.
Although both compliment each other quite well, there are some key distinctions to be made between the two methods.
High Resolution Imagery or High Resolution Point Cloud
Photogrammetry's best advantage over laser scanning with current technology is high resolution imagery. Although laser scanning imaging may improve in the coming years, it has some way to go before it can match the image quality seen in terrestrial or drone based photography. For this reason, photogrammetry is the survey method of choice for orthophoto creation.
PCA always uses the latest, most efficient laser scanner for the given job specification outlined by the client. One such scanner is the Leica RTC360. This does a fantastic job at producing high resolution dense point clouds however, it falls short of producing very good quality images that PCA's DJI Phantom 4 RTK drone produces. That being said the airborne photogrammetry solution will not produce point cloud data on par with the Leica RTC360.
To put it simply laser scanners are fantastic at what they do, producing point clouds. However, they fall short on image quality. Conversely, cameras used for photogrammetry capture fantastic images but fall short on generating point clouds on par with laser scanners.
For this reason, given the client specification, the most appropriate technique will be selected. More often than not due to the integrated and multidisciplinary skills of the staff at PCA, both terrestrial laser scanning and airborne photogrammetry are used on the same job. As per specification, terrestrial photogrammetry may be used to capture internal elements of buildings.
Accuracy
When aiming for highest achievable accuracies in a given project, PCA will revert to laser scanning as the primary data acquisition tool. Laser scan resolution and control precision is greater than in airborne photogrammetry and is not susceptible to high levels of distortion seen during terrestrial photogrammetry. 
Having said this, photogrammetry is very much capable of achieving accuracies under +/- 50mm however great care must be taken to achieve such levels. In the event that extensive coverage is required of a site where laser scanning accuracies of under +/- 10mm are not required or occluded areas such as roofs are to be included, photogrammetry is a great addition for rapid and reliable data acquisition.
One of the most notable accuracy differences seen between laser scanning and photogrammetry are orthophotos. When pointcloud based linework is produced during topographical or building elevation drawings, a 'mismatch' is seen at times. Often this error is not large however due to issues such as low light, rectification planes, distortions and inherent accuracy discrepancy in the technology, this error is present.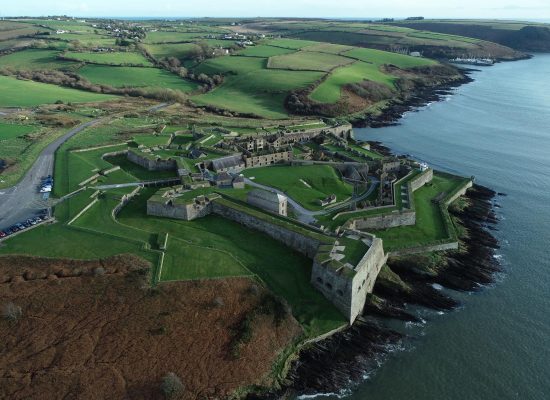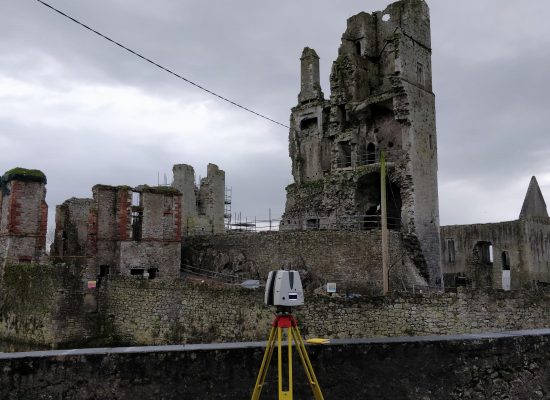 One such challenge was the internal sections of Charlesfort, Kinsale, Cork. Due to little or no light as well as narrow and tall internal facades, the terrestrial photogrammetry was going to be a challenge. The PCA team decided that soft lighting and ladders would mitigate many of the upfront issues that the structure would present. Although not entirely covered due to areas of occlusion and extreme planes, the team did very well capturing what was within the client's specification.
Projects
Through years of using the latest in both photogrammetry and laser scanning technology at PCA we have identified many of the pros and cons to using one over the other given the particular project specification. For much of our OPW heritage work, both techniques come into their own for rapid, accurate and stunning high resolution results. When combined the results often speak for themselves. 
The team have surveyed many heritage sites such as Skellig Michael, Portumna Castle and Charlesfort where both laser scan data and high resolution building facade orthophotos provided the best outputs for the OPW. On more 'day to day' sites, one solution may be selected in place of the other however more often than not our skilled staff can efficiently deliver stunning results to our clients using both methodologies.
Survey Data Output
Laser scans
Aerial Images
Survey Ground and Facade Control
Topographical Data
Final Deliverables
Topographical Drawing
Orthorectified Imagery
3D Model (.obj)
Elevation & Sectional Drawings