In 2020 Coliemore Harbour, a quiet swimming and fishing spot in Dalkey, Dublin saw a large slab of rock collapse from the facade of the harbour into the docking and swimming area below. This was very quickly noticed and fenced off for public safety.
PCA was tasked shortly after to survey the area providing topographical, elevation and 3D model data of the immediate and surrounding area. Some of the project challenges included water safety, collapse of a natural structure, sea level and rapid data acquisition and delivery.
The PCA team decided on a solution that included four main survey tools, GPS, total station, laser scanner and drone to complete the project rapidly and provide full coverage for the client.
Using the Leica P40, the experienced team arrived on site completing the harbour scan in one day ready for processing the next day. This provided a high resolution dense point cloud for topographical data to be extracted but most importantly, elevations to be drawn of the fallen rock facade. 
The drone was deployed to capture detailed, very high resolution orthorectified imagery of the same facade. This imagery was then combined with the pointcloud linework in AutoCAD to produce a visually stunning and accurate result. A challenge for both the laser scanning and drone was to wait for low tide level. This resulted in staff arriving on site early to capture the data.
The total station was then used to pick up water level depths from a small boat in the harbour where a member of staff safely placed the survey pole in the water and captured spot levels at the sea bed.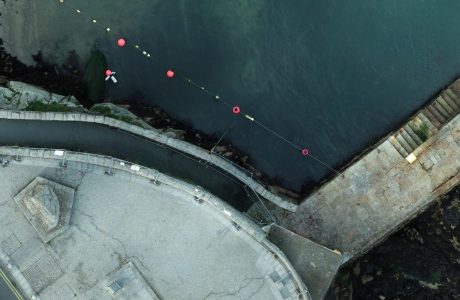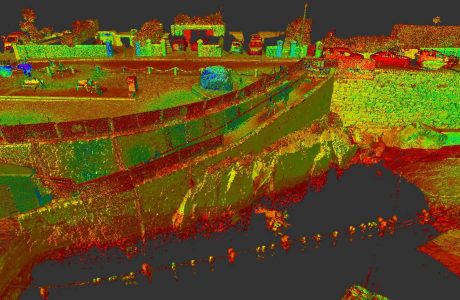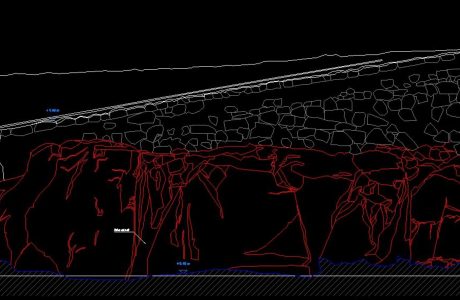 Survey Data Outputs
Leica P40 laser scans
Aerial Images
Survey Ground and Facade Control
Topographical Data
Final Deliverables
Rockfall facade elevation drawings in AutoCAD
Topographical Drawing
High resolution Orthorectified Imagery