SENIOR SURVEYOR RECRUITMENT - DUBLIN
Do you have what it takes to be part of our Team?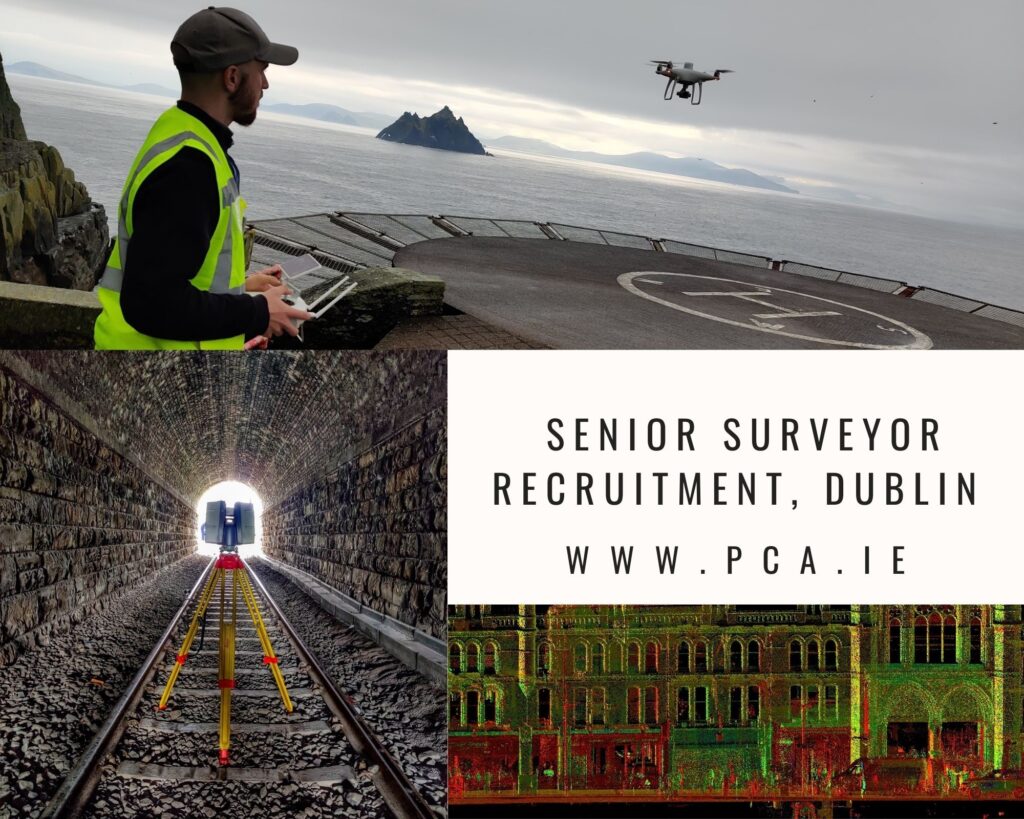 PCA Geospatial Surveying is seeking an experienced full-time Surveyor to join our expanding team based in Sandyford, Dublin.
PCA is the largest Geospatial Surveying company in Dublin and has provided a wide range of high- calibre, professional Surveying and Geospatial services to both Public and Private sectors. For over 30 years, PCA have been involved in many of Irelands most prestigious projects.
Clients include Local Authorities and Government Agencies, Private Engineering, Architectural and Building Services Consultants, Environmental Protection and Legal mapping profession.
PCA is currently providing measurement mapping and modelling services on a number of significant urban developments, as well as many large-scale Heritage, Conservation and Environmental projects. PCA teams are involved in projects across Ireland and occasionally abroad.
PCA is a very people-centred organisation. Our core belief is that we owe our success to the expertise and personal skills of the many fine people who work here. Your personality, your vision and your ability to shape your future within a cooperative team of fellow professionals is important to us. Your dedication to our common goals and to the high expectations of our clients is paramount to our mutual prosperity.
Our multi-disciplinary expertise consists of people from many educational backgrounds such as Surveying, Engineering, Architectural Technology, Archeology, Aviation and Photography.
This is an exciting time to be joining our interactive team, which focuses on the reliable delivery of Precision Geospatial data including Mobile Mapping, 3D Scanning , UAV/ Drone and Photogrammetric Modelling to BIM. This Sector has already shown significant growth for the past number of years with amazing innovation projected over the next decade through the merging of technologies and processes.
If you believe you have what it takes to be part of our Team and you have the competences required  (below), we would be delighted to hear from you.
Personal Specification 
The ideal candidate will have exposure to a wide range of Surveying related skills with a minimum of 5 years Post Grad experience.
Good working knowledge of both site and drawing-office work flows.
Self-motivated with good team leading ability.
Very good report writing and communication skills.
A high degree of IT literacy is essential to embrace new technologies.
3D Drafting and modelling would be an advantage.
Full, clean driving license.
Key Responsibilities
To partake in a variety of surveying tasks both in office and on site.
To be able to complete tasks exactly to specification and within budgets.
To be actively participating in Continuous Professional development.
To actively participate in the various in-house training programs both as trainee and trainer.
To uphold the integrity and standards of PCA teams.
Play a role in the development and maintenance of client relationships.
Any other duties required in your role.
Employee Benefits
Competitive Salary
Flexible working Arrangements
Additional Annual leave
Travelling allowance and subsistence rates
Incentive (reward vouchers for shopping and entertainment)
Potential to gain significant professional experience.
Apply
For more information about this role or to apply, please send your full CV to: admin@pca.ie