In April 2022, PCA were contracted by Clifton Scannell Emerson Associates, on behalf of Waterford County Council, to carry out a LiDAR topographic survey of large swathes of land between Waterford City and Tramore. The purpose of this survey was to inform route selection and development directions for proposed greenway initiatives.
Due to the proximity of the survey areas to Waterford Airport, a survey solution using manned aircraft was selected. This made it easier to log specific flight plans with Waterford Air Traffic Control, mitigating many of the issues that would have otherwise made drone-based solutions too problematic. This also meant that survey data could be captured in the shortest amount of time. Data capture was carried out using a Riegl VUX-1LR LiDAR scanner mounted to the underside of the aircraft fuselage. All data was captured within 1 working day.
This LiDAR solution allowed for a detailed 3D point cloud with an overall 3D accuracy of +/-0.050m. This accuracy was ensured by the use of on-board RTK GNSS systems. However, in order to check that these accuracies were achieved, a sample of hard topographic detail (kerb tops, road markings, building lines, etc.) was surveyed on-site using survey-grade terrestrial GNSS.
Using a combination of survey software, contoured topographic detail was drafted in 3D from the LiDAR point cloud data. Ultimately, full turnaround from data capture to supply of deliverables for the combined survey areas (measuring over 870 hectares) was completed within 4 working weeks.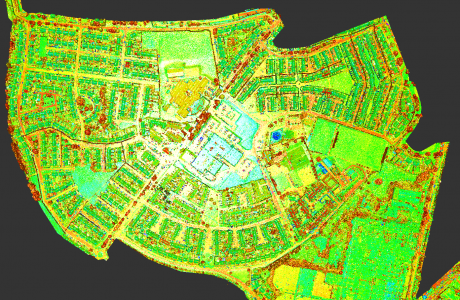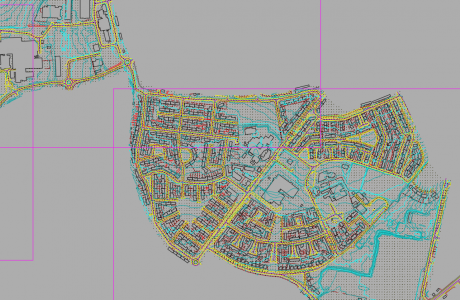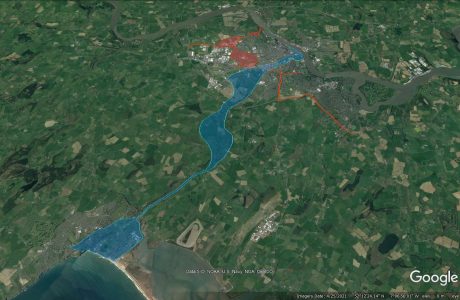 Survey Data Outputs
LiDAR point cloud
250m GSD Digital surface model (DSM)
250m GSD Digital terrain model (DTM)
Final Deliverables
AutoCAD 3D Topographic Survey Drawings